Can we address the elephant in the room?
As we guiltily bring home our plastic wrapped items and takeaway coffee cups, the new rules surrounding COVID19 have made life a bit trickier for those of us who were trying to minimise our impact on the environment.
Last week we visited Harris Farm in Leichhardt, usually a stronghold of plastic-free packaging, and were surprised to see that we were the only people in the store still using our mesh bags. In fact, one particularly cautious customer, wearing a paper mask, was using two plastic bags as gloves to put her fruit and veg into a third. She then discarded her glove bags after each item and got new ones. I kept my requisite 1.5 metres away and refrained from comment. People are very frightened, and  I'm certainly not going to judge anyone for doing what they feel they need to in order to stay safe at this time.
Then there are the official instructions to wash our hands for 20 seconds. We have lever taps in the kitchen thankfully, but I'm troubled by all the times a tap has to be left on for 20 seconds while folks are lathering up. Parts of our state continue to be in severe drought and strict water restrictions still apply – I'm not sure how rural folks are coping with these directives.
But on the flipside, the environment appears to be thriving with most of humanity in lockdown. For the first time in 30 years, the Himalayas are visible from the northern Indian state of Punjab, due to an unprecedented reduction in air pollution. The photo below is from this CNN article…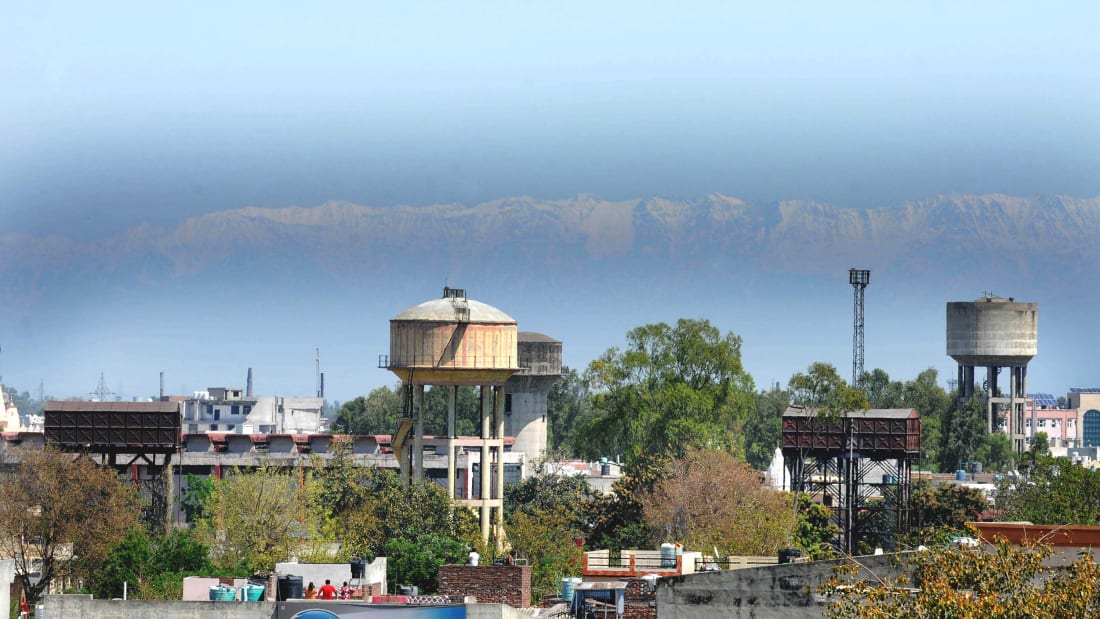 Paradoxically, even though we're bringing in more plastic packaging than we have in the last couple of years, our weekly rubbish output is actually slightly less than it was before lockdown. Which made me realise that a determining factor in the amount of waste we produce is not just what we buy, but how often we buy it.
We're only shopping for fruit, vegetables and groceries once every nine days or so. The beeswax wraps are making a huge difference – using them means loose leaves and spring onions go the distance between shopping runs without turning to mush. Even more importantly, our approach to food has shifted slightly – we didn't throw out much in the past, but now almost nothing gets wasted. As we're all at home, leftover dinners become lunches the following day, single portions get stashed in the freezer, yesterday's roast becomes tomorrow's nachos.
Pete has managed to perfect his soldier fly hatchery – I'm sorry, but you'll have to Google or YouTube on how to make one, as it's too complicated for me to describe and I don't really understand how it works anyway. I had a quick look and found this Gardening Australia fact sheet on them.
This is Pete's second attempt, and my only contribution has been to sew seams as directed. It's made almost entirely from recycled materials (I think he bought a honey tap for it), including the boys' old toy box, shade cloth from Reverse Garbage, a leftover bit of roofing and two used kimchi containers.
In our backyard, particularly in the warmer months, it works brilliantly. Much better than the Bokashi bucket. The soldier fly larvae voraciously gobble up all sorts of food scraps and leftovers, and then pupate into what can only be described as chicken crack – the hens completely lose their minds for them. We had at least 30 little pupae to feed them yesterday. Coupled with our two worm farms, almost no food scraps other than bones and avocado pips end up in the red bin these days.
At home, we're doing our best to toe the sustainability line – we're still using our cloth napkins, teflon baking sheets and crocheted dishcloths. All the neighbourhood bakes are going out wrapped in paper. I have had to use plastic bags to share bread flour, because exploding paper bags loaded with kilos of wholemeal are never a good thing. Buying in bulk and decanting continues to work well – we end up with one large plastic bag which we try to reuse, rather than ten small ones. And we're still taking our reusable mesh and cloth bags to the shops when we do go.
Ordering in has been tricker – we had an arrangement with our local Japanese restaurant to provide them with our own platter, but that's temporarily on hold as all food outlets are obliged to use disposable serving ware at present. That means we're not able to take our own KeepCups to cafes either – as a result, I've only had three takeaway coffees since lockdown began. And even though I'm keen to support our local restaurants, we haven't ordered many takeaway meals – partly because it's never quite as good as the food we make at home, and partly because Small Man gets very distressed by all the single use plastic coming into the house.
Going out so infrequently means we're using less than half the petrol we were pre-lockdown. And as we're not going anywhere, clothes are getting washed less often, shoes aren't wearing out, and bad hair days have given me the perfect excuse to don increasingly bizarre hats.
As you might recall, we had solar panels installed at the end of last year, and a Tesla battery at the start of 2020.
So far, it's been fantastic. It used up the funds we'd been saving for a new car, but it was well worth it – since the battery was installed, we've achieved carbon neutrality (just) in electricity terms. We'll still have a utilities bill to pay, because we're charged three times more for the power we draw down from the grid than for the kilowatts we send to it, but that's okay – our motives for making the shift were never purely financial. We won't be able to perform as well in winter, but it's encouraging to know that it's definitely making a difference. Here are our stats at the time of writing…
Hmm. It's always good to write this stuff down. It's been simmering in the back of my brain for a while now, but it's nice to have an opportunity to put my thoughts in order.
So here's what I think.
During this slightly crazy time, we can only do the best we can in unprecedented circumstances. There's nothing to be gained from beating ourselves up over things which are outside our control. Instead, let's continue to nurture our green mindsets and try to make sustainable choices from the options presented to us. We can't buy loose salad leaves at the moment, but that's ok. What we can do is make them last longer by storing them carefully and not wasting any of them. We can support our communities and be more waste-conscious at home, particularly if we find ourselves with a bit more free time. And we can take the lessons we're learning during this crisis – on frugality, kindness and creativity – and use them to live richer and more rewarding lives post-lockdown.
I hope you all have a lovely, gentle day, dearhearts. Thank you for letting me ramble on. ♥