Furoshiki are traditional Japanese cloths, used to store clothing, transport goods and wrap gifts. They're seriously cool, and they may just save the world. (I've added a link to my tutorials at the bottom of the post.)
My darling sister bought me this book earlier in the year…
Inspired, I hemmed a basketful of square cloths, declared them to be furoshiki, then proceeded to use them to wrap everything from coats to groceries to iPads to fossils…
A furoshiki has two advantages over a bag…firstly, it can be untied and thrown into the washing machine, and secondly, it can be folded to specifically suit the item in question. I've been making them out of my stunning fabric finds from Cash Palace Emporium.
I love that I can go out in a scarf made from vintage kimono silk (please excuse the bed hair)…
…then whip it off dramatically and fold it into a purse…
…or a grocery bag…
…or a flower pot carrier…
This is how I BYO wine bottles to restaurants these days…
I cut the back out of my torn dressing gown and used it to wrap up all my surplus knitting yarn…
My matching scarf and furoshiki wrapped veg gave the neighbours a good giggle…
…and when we were caught short on shopping bags at Costco recently, my furoshiki came to the rescue…
We've been making handbags…
…and wrapping gifts…
. . . . .
My sister reckons she's created a monster, but it's great fun and good for the environment. In 2006, the Japanese government created a furoshiki in an attempt to reduce household waste from plastic bags. They provided this instruction sheet with it (here's the higher resolution pdf)…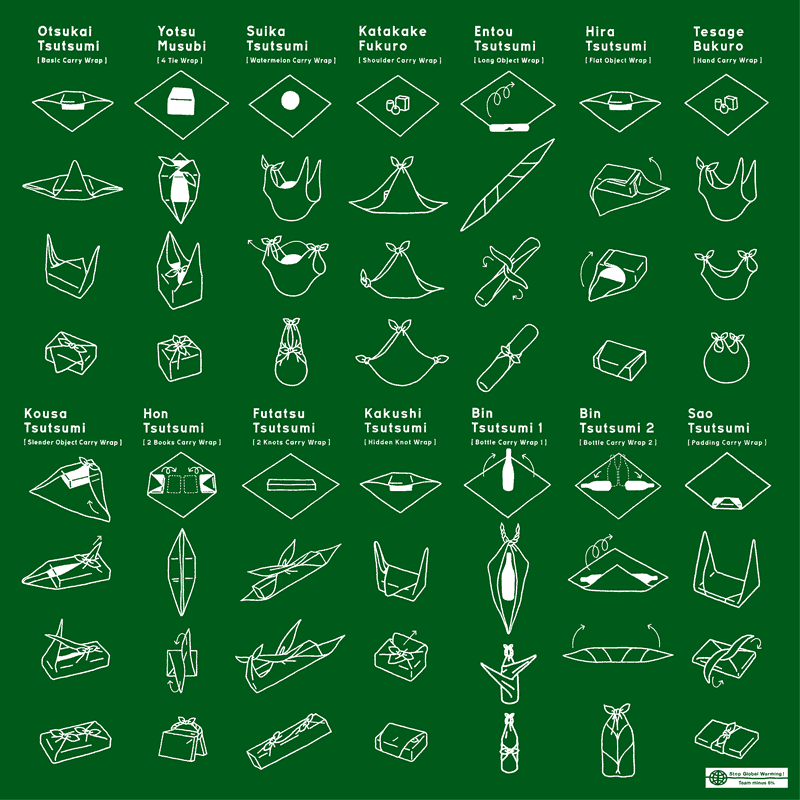 If you're interested, the two books by Yamada Etsuko are fabulous and both are available in Kindle format through Amazon…
The only important thing you need to know is how to tie a square knot – if tied properly, it shouldn't pull out. It's worth practising a few times to get it right. Here are the instructions from Etsuko's book…
If you're a sewer, this is the perfect excuse to use up some of those beautiful pieces of fabric you've been hoarding. Originally, furoshiki sizing was based on kimono silk, which was traditionally 14″ (35.5cm) wide. The fabrics were sewn into pieces two or three widths across.
If you're making them at home, I recommend 70cm and 100cm squares – the 70cm ones are a good size for wine bottles and iPads and books, whereas the larger ones are great for groceries and shoulder bags.
Here are my tutorials for using your furoshiki. Enjoy!