A few weeks ago, excited by Michelle and Rachel's successful attempts at sourdough baking, I wrote a basic sourdough tutorial.
At the same time, I was trying to figure out a viable way to send starter to friends. Posting liquid starter, as I'd done on a few occasions in the past, was expensive and bulky – and I always had the niggling concern that it might leak in transit and cause a bio-hazard scare at the post office.
I mentioned this to my neighbour Maude, who told me that she'd recently dehydrated some of her starter to send overseas.  It seemed like a sensible option, and one that should work, given that the original starter I bought had arrived in a dried form.
I fed a bowl of my starter (Priscilla) until she was bubbly and frothy, and then ladled her out onto a couple of silicone mats.  Spread the starter out as thinly as possible and then leave in a warm spot to dry – we used to sit it on top of the fish tank, but these days we just leave it on the dining room table for a few days…
The dried starter was crumbled into small flakes. Because it was quite thick and chunky (as can be seen in the photo below), I gave it a quick blitz in the food processor to break it down a little more. I tested it (twice!) and then packaged it up, crossed my fingers, and mailed it out to friends.
I can't tell you how happy I was when the photos starting coming back!
Priscilla's offspring have spread far and wide!  Allow me to introduce you to part of her family tree (hopefully there will be more to come)…
. . . . .
Son: Navarone (Linda Woodrow)
–> Grandsons: Elvis (x2), Boy George, Bruce
–> Granddaughters: Bubbles and Julie.
I sent starter to Linda in liquid form nearly two years ago, and she's been baking up a storm ever since.  She has also passed the starter on to her family and friends, and most of the offspring have thrived!
Linda's loaves are baked in a completely different way to mine (I love that!) – her everyday sourdough recipe is here, and this photo is of her gorgeous oat and linseed bread…
. . . . .
Daughter: Stella (Rachel @ The Food Sage)
Rachel has truly hit the ground running – the diary of her first attempt at sourdough sparked our latest baking frenzy, and her second loaf (using this recipe) was a great success. You can read all about her grain bread here…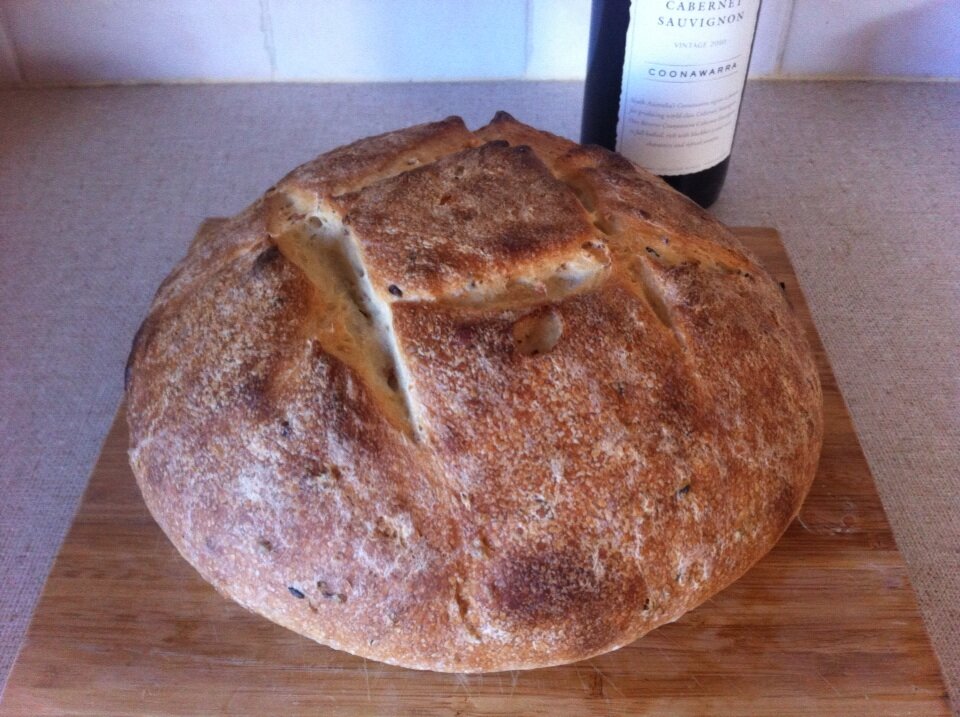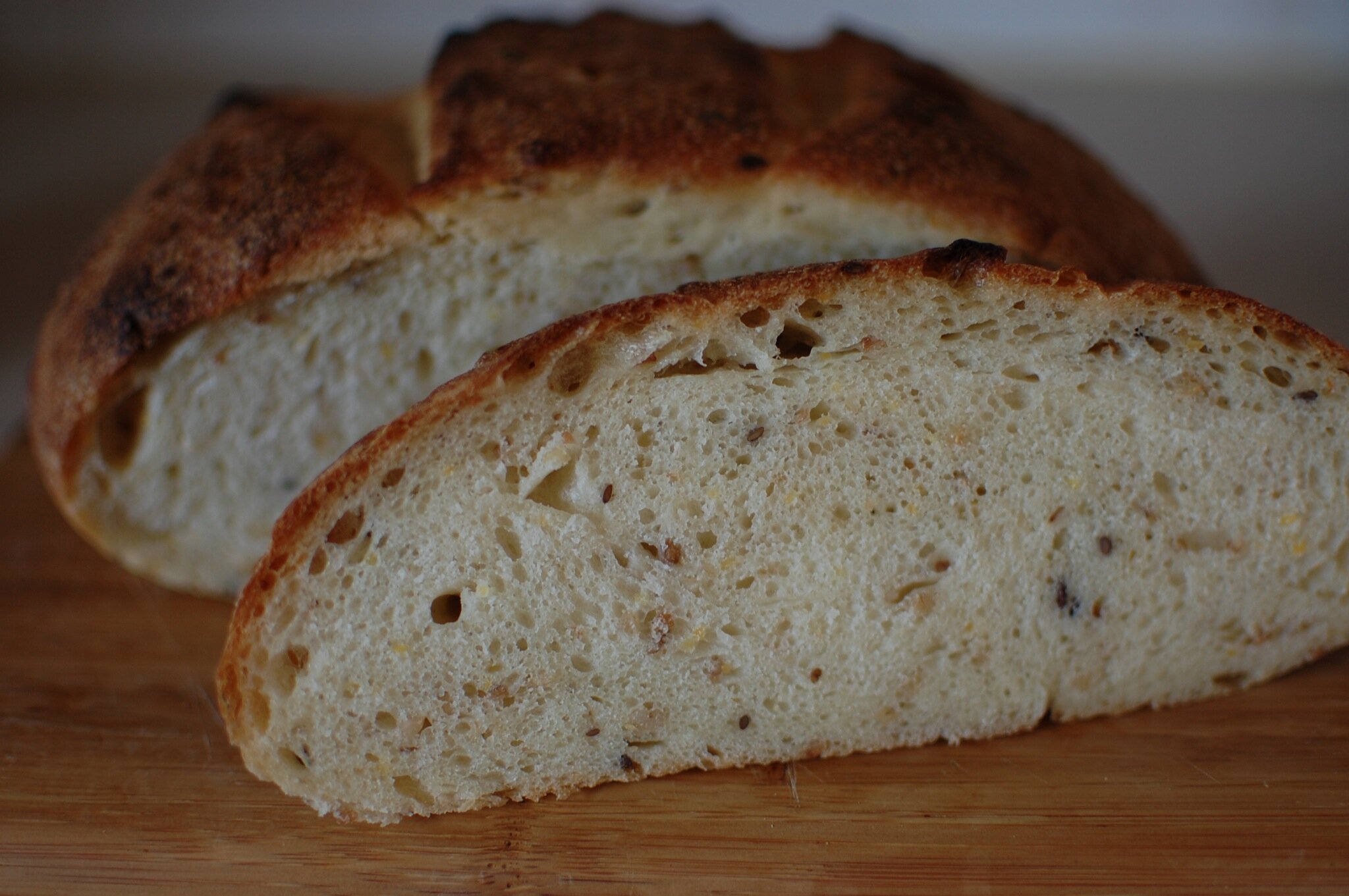 . . . . .
Daughter: Marion (Ali and Nick @ This Blooming Life)
I've had so much fun chatting to Ali and Nick in the past couple of weeks about everything from baking bread to growing leeks to rowing. Marion is only a couple of weeks old, but they've had some fabulous adventures with her already – their very first loaf (below) involved an emergency drive to pick up a new oven door…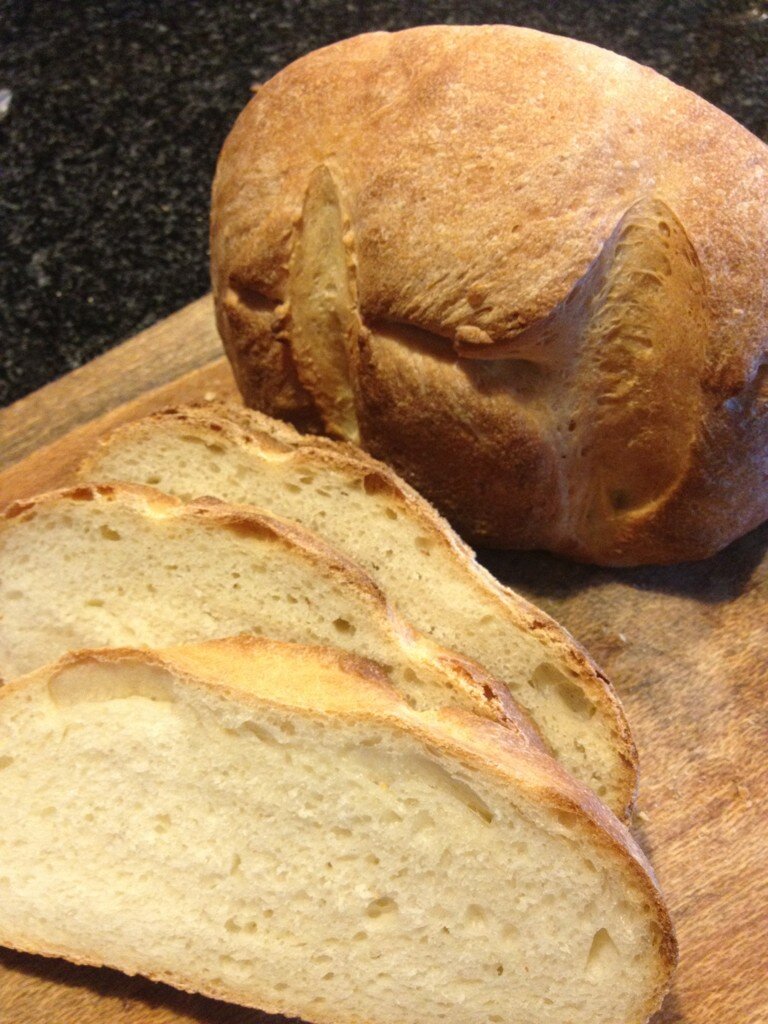 . . . . .
Daughter: Princess Patsy (so named by Jan in Brisbane because she's absolutely fabulous, daaarling..)
Darling Jan rehydrated her starter and whipped up a loaf as soon as she got her envelope in the mail.  We were both squealing with excitement when she sent this photo of her first attempt at sourdough – a pair of kissing loaves…
. . . . .
Son: Kevin, aka "Big Kev" (Claire and Will @ Claire K Creations)
Big Kev is pulling out all stops! Claire has a deft hand with all things baked, and not surprisingly, her first loaf was a stunner – read all about it from start to finish here…
. . . . .
Son: Sydney (who now lives in Bristol with my beloved friend Joanna @ Zeb Bakes)
Joanna didn't need my sourdough starter as she has several of her own, but when she mentioned that she'd be happy to give Priscilla a go, I eagerly popped an envelope in the mail to her.  I was so thrilled that she'd be baking with my starter, because I knew she'd create amazing bread with it. And she has…
. . . . .
Son: MO (named by Moo's son, an acronym of Michael and Oliver)
Our old friend Moo is a perfectionist.  When he pulled his first sourdough rolls out of the oven, he said to me, "Hmmm. It's a bit dense, and I'd like a bit more of a blistered crust next time".  I thought they looked fantastic, as did his young son Oliver, who helped to shape them…
. . . . .
Sharing Priscilla's clones has been like giving away a litter of puppies from a treasured pet – they've all gone to friends who will look after them and hopefully get years of baking pleasure from them. There are still a few envelopes in transit – I'll let you know of any future additions to Priscilla's family tree!