In December, I offered to send out 30 packets of dried Priscilla – my sourdough starter of eight years – to my friends and readers. It seemed like a nice thing to do at Christmas.
Drying and bagging up the starter took some time, and there was a bit of postage involved, but I figured it wasn't going to cost me any more than sending out Christmas cards, except I'd be sending out dodgy looking packets of flaked starter instead.
What I hadn't anticipated was the enormous excitement that would erupt on my email and twitter feeds from exuberant new bakers, or the sheer squeal-inducing joy of sharing in the baking process with online friends from all over the globe.
I got so caught up in it that I found myself crawling out of bed at 3am to check on how doughs were rising on the other side of the world. Last week, Emilie in New York, Selma in London and I peered into our phones, scrutinising photos of Nancy's starter on the heated bathroom floor of her Shanghai apartment…
We laughed ourselves silly over the glorious naming process – Priscilla, Queen of the Refrigerator has spawned Conciabatta, Breadelacreme, Felicia, Twinkle, Lonestar, Muriel, Penelope, Mamie, Sweet Pea, Esmerelda, Lucy Liu, Hugo and many more! All related, all bubbly and energetic, living in fridges all over the world.
Then…happy days…the photos of freshly baked loaves started to appear. And the excitement ramped up on all fronts as we cheered each other on from the sidelines, oohed and aahed over pics as if they were of newborn babes, and discussed what we would repeat and what we might change the next time around.
Over the past few weeks, I've watched as mastering the sourdough process has empowered my friends, delighted their families, and connected us all virtually into a tight knit community. It's been one of the most enjoyable starts to a new year that I can remember.
So let me share some of that joy with you by showcasing just a few of the photos. They're not all the best quality – often they've been taken with a phone under low light – but each one is infused with contagious delight.
. . . . .
My friend Annie was reluctant to start the process, but once she did, there was no stopping her! Within just a few days of baking her first loaf, she was confidently distributing them to family and friends. Here are her "Angry Gorilla" loaves baked using her drag queen starter, Breadelacreme…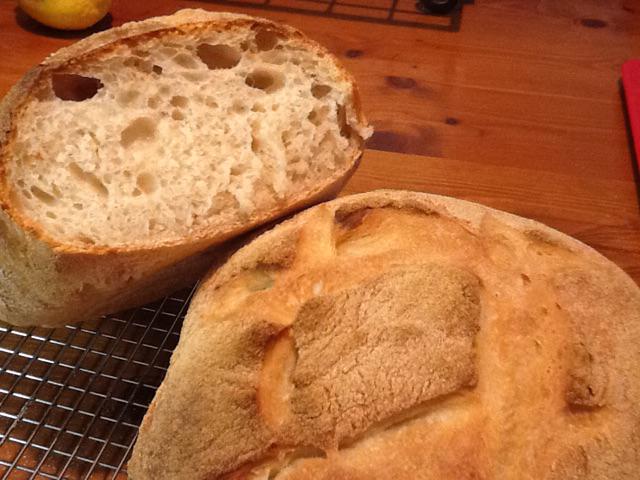 The gorgeous Jason at Don't Boil the Sauce! is an unstoppable force with his starter Conciabatta (check out his blog for the Eurovision reference) – after baking his first loaves, he moved on to panettone the following day…
Maureen at Orgasmic Chef has had a Priscilla starter for a while now – Esmerelda Pissemeyer continues to produce stunning loaves…
Danielle's starter Queenie is named in Priscilla's honour, and she's been turning out wonderful first loaves…
My sister-in-law Penny named her starter Mary – she's been baking overnight loaves that have delighted my nephew Joseph…
Lovely Francesca at Almost Italian has been baking up a storm over the past few months, creating her own unique formulas and doughs. Her starter is named after me…
Liz at Mother Hubbard's Cupboard called her starter Penelope, and she's been baking cracking loaves with her…
Diane's starter is named after her mother Mamie and lives happily in her Massachusetts kitchen. This brilliant first loaf was started by Di and finished by her husband John…
Emma's very first loaf with Miss Smilla was a gigantic double-sized one. Look how well it turned out! And she's baking around her newborn's feeding schedule…
Andrew ran out of white flour, so he improvised and created this magnificent hybrid rye/bakers flour loaf with his starter Felicia…
Amanda struggled with choosing a name for her starter, but finally settled on Levi (short for Levitation). Her loaves certainly justify the name…
My darling friend Ali bakes fabulous ciabattas with her starter Hugo, then serves them with magnificent homegrown produce…
It's pretty cold at the moment in British Columbia, but Manuela's starter Sherwood was so active that his dough overflowed its bowl…
Look at his beautiful loaves!
Imogen's starter Betty produced stunning loaves from the get-go…
Debi's starter Muriel had the largest bubbles I've ever seen! She's been baking up a storm over in the UK…
Houston, we have lift-off! Fran's starter Lonestar turned out these terrific sourdough rolls on his first bake…
Nancy from Plus Ate Six is based in Shanghai, where it's really cold at the moment. It's so cold that she had to prove her dough overnight in her heated bathroom…
It can be hard to find the right ingredients in China, but some serious research turned up a high quality unbleached American bread flour. With it, and the help of underfloor heating, Nancy and her starter Lucy Liu created a spectacular first loaf…
Lucy Liu has already been shared with Jen, who renamed him Charlie and used him to create this gorgeous loaf…
My lovely friend Selma in London couldn't bake a bad loaf if she tried! She has taken to sourdough baking like a duck to water. Her starter is Twinkle, so named because her bubbles resemble stars in the night sky. Selma's latest is her Terminator loaf (because it was impossible to kill) – she overproved it, baked it at too hot a temp, forgot to slash it, but just look at what she turned out…
We've all been having so much fun! If you've baked a loaf with a Priscilla starter and would like it included here, please email me a photo and I'll upload it! ♥
. . . . .
Priscilla's Family Tree (2013)
Priscilla's Family Tree – An Update (2013)